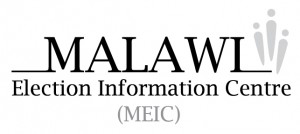 Opportunity base: Blantyre, Malawi
Opportunity closing date: 12 March, 2014
Opportunity type: Short-term Voluntary

Elections have been long considered to be a critical process in the life of any democratic State. The regular holding of free, fair and credible elections is, therefore, seen and understood as strong adherence to the tenets of democracy – majority rule, freedom and progress.
The advent of new communication technologies has revolutionised the approach to electoral process, with various possibilities for enhanced transparency and accountability arising. That is why we have set up the Malawi Election Information Centre (MEIC), with the aim of running an Election Situation Room during Malawi's tripartite elections in May 2014.
About the Role
As a Data Officer, you will be responsible for data entry, data analysis and monitoring the real time performance of short-term observers deployed across the country. In this role, you will also produce customised reports for regular presentation to specific MEIC stakeholders. You will work closely with the Media and ICT teams and report to the Project Manager: ICT.
About You
You are a young, energetic and enthusiastic individual who understands the power and value of ICTs – especially mobile technology – in key democratic processes such as elections. An excellent team-player, you have worked in a busy IT or digital communications environment and is versatile enough to handle multiple tasks with ease while delivering impressive results. You are also innovative and you hold a Bachelor's degree or other related qualification in Computer Science or Information Technology. Finally, you possess strong interpersonal skills and your written and spoken English is good.
About Us
We are a coalition of multiple civil society organisations (CSOs) in Malawi, organised under the banner of the Malawi Electoral Support Network (MESN). Our common interest is to collaborate on activities related to the May 2014 tripartite elections in Malawi.
To Apply
Follow and tweet us your interest @MEIC_2014 or Like and message us on Facebook (/meic2014)
Closing Date
Wednesday, 12 March 2014