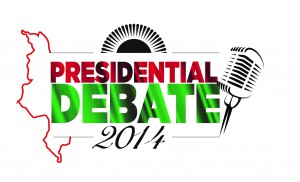 Press Statement
Presidential Debates 2014
For Immediate release, 17 April, 2014
The multi-stakeholder Taskforce on Malawi Presidential Debates, chaired by the National Media Institute of Southern Africa (NAMISA), will hold a Presidential Debate for all 12 aspiring presidential candidates on Tuesday, April 22, 2014. The debate will take place at the Bingu International Conference Centre, (BICC), from 6:00 to 9:00 pm and broadcast live on radio, television and internet.
Second and third presidential debates are also scheduled for April 29 and May 6 in Lilongwe and Blantyre respectively, and will include those political parties fielding parliamentary candidates in 10 percent of constituencies across the country.
The Taskforce has received confirmation from most political parties that their candidates will participate and is finalizing the engagement process in readiness for the April 22 debate to have representation of all candidates.
Among other key decisions, all the debates will combine Chichewa and English and will be restricted to invited guests only and moderated by a well-respected, knowledgeable Malawian with a neutral stand and very conversant with Malawian politics. The Taskforce has been endorsed by the Malawi Electoral Commission.
The debates have been organised to inspire issues based elections and enable candidates to market their ideas and policies to the electorate.  In addition, the debates aim to (1) motivate candidates to focus on real policy issues, and articulate their position on matters that are important to Malawians, thereby providing a basis for holding the winning candidate accountable after the elections; (2) provide voters with a rare opportunity to compare presidential contenders side by side; (3) help to promote political tolerance among candidates  and (4) provide an opportunity for political rivals to show that despite their differences they can treat each other with mutual respect even when they disagree on issues which would in turn promote political coexistence before and after the elections.
Funding for the debates has been provided by the Open Society Initiative for Southern Africa (OSISA) with the National Democratic Institute providing technical assistance made possible by support from UKAID.
####
The debates taskforce was formed in July in response to interests by respective organizations to host presidential debates. Members include Malawi Human Rights Commission (MHRC), Catholic Commission for Justice and Peace (CCJP), National Initiative For Civic Education (NICE), National Democratic Institute (NDI), Malawi Electoral Support Network (MESN),  Mtendere Support Network (MESN), Centre for Multiparty Democracy (CMD), Public Affairs Committee (PAC), Zodiak Broadcasting Station (ZBS), Malawi Broadcasting Corporation (MBC), Netherlands Institute for Multiparty Democracy (NIMD), NGO-Gender Coordination Network (NGO-GCN), The National Media Institute of Southern Africa (NAMISA) and Young Politicians Union of Malawi (YPU).
For more information contact:
Anthony Kasunda
Chairperson
Presidential Debates Taskforce
Email: akasunda2008@gmail.com
Cell: 0999952457