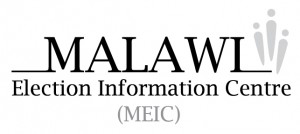 In a first for Malawi, voter verification now available on mobile and web
BLANTYRE – 21 April, 2014:
In a historical and electoral first for Malawi, prospective voters in the country are now able to verify their voter registration status using mobile phones. A web platform has also been created for the same purpose.
Registered voters in the upcoming Tripartite elections scheduled for 20 May, 2014 can now send a FREE short–‐message–‐service (SMS) to a designated short–‐ code and instantly receive details of where they are registered to vote.
The Malawi Electoral Commission (MEC) in conjunction with the Malawi Election Information Centre (MEIC) is rolling out this service, with technical assistance coming from SMAG Media UK, Ltd. and Code For Africa.
For More details CLICK HERE.